For The Eyes Of TRS "e-Hotlist" Customers Only:
URGENT
AND
CONFIDENTIAL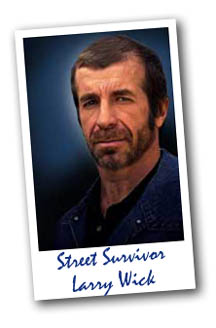 President's Office, TRS Direct
Visalia, CA

Dear Friend,

If you have any friends who are SWAT cops or well-placed in the Spec Op military... then you've heard the rumor. You know the one: There's a brand-new "scare the hell out of everyone" fighting system slaughtering every single "old" martial art out there. And only a few people (mostly professionals) are supposed to know about it.

Yeah. I thought that rumor was bull, too.

Until I got a call from Fairbanks, Alaska. And it's all true. I'm still in shock.

This is going to blow your mind.

Here's the story: There really is a guy named Larry Wick out there. He's not a myth. And yes, he cruised around the country proving how easily and simply a small guy can butcher larger, more skilled opponents.

Anywhere, anytime, against anyone.

Wick… a true master in the martial arts… logged 30 years experience of mixing it up in the street. But — in a sudden flash of insight — he realized that every single part of his black belt training had gaping holes that could get him killed. Holes that any street punk could break through. Sometimes by luck, sometimes by superior skill. Sometimes just by ganging up on him.

And that just got him fired up. So Wick spent years developing a new way of fighting. And I mean new. Nobody has seen anything like this before. Not you, not the top street fighter in your town, not the steel-eyed killers in the deepest parts of the Spec Op community. That's why there's so much buzz. That's why the entire fighting world has been so shaken up (and why all the rumors are flying).

Get this:
Every move — every single one in this new system — takes out your opponent in ONE SECOND.
There are NO throws, NO locks, NO punches and NO kicks... so it's incredibly easy to learn, fast.
And... it is designed to work against larger opponents. Groups of them, in fact. You will actually welcome multiple attackers.
Hold on. I know you're skeptical. Lord knows I sure was.
But then I got that call from Alaska. Middle of nowhere. That's where Wick lives. Yet... "insiders" in the military, the FBI, and savvy cops trek up there, on their own. Just to learn Wick's astonishing new fighting secrets.
Because they work like crazy.
This is proven stuff, too. Wick ONLY trains against multiple attackers, and ONLY against guys who outweigh him by twenty pounds of muscle. He's not interested in bullying smaller opponents. He's a small guy himself (maybe 175 soaking wet). And he knows from experience that — in the street — you don't get attacked by smaller guys.
Nope. In the street... you get sized up... and the ONLY time you're attacked is when the bad guy knows in his heart he can crush you like a pretzel. Him...
And His Buddies!
This is where "normal" martial arts fails you. That fancy spinning kick, those cool blocking moves, even your elbow smashes... all bull in the street. There's no time. You get ONE strike in, and even if you connect, you have the other punk already attacking you from behind.
So Wick just avoided strikes altogether. And concentrated on simpler, faster moves that instantly demolish the "soft parts" of your attacker.
You don't have to kill him. But you can if you need to. Because you're in charge, from the very first second of the fight to the time (only a few seconds later) when it's all over.
This is why cops and federal agents and Spec Op guys love this new system.
You can learn it wicked-fast. (In fact, just watching Wick make the moves is really all you need to understand it. He created the entire system so it instantly "downloads" like melted butter into your muscle memory. You will be shocked.)
It's instantly useable in the real world. Where your attackers will be in groups, often armed, and much larger and meaner than you.
And... it's just deadly effective. You won't even break a sweat, and yet the damage you do...
Will Leave People
Afraid Of You Forever!
How can I be so sure of myself about all this? First, because all those cops and military guys don't waste time with stuff that doesn't work. They know they need the best, newest, and most devastating moves available... because their enemies spend all day, every day learning how to hurt opponents.
And second... Wick PROVED his new system in the real streets of America.
Yep. Wick traveled into the nasty heart of American street fighting and survivied. No fancy dojo's... no rules... no referees. Not even a cage to keep out bystanders. It was a bloody, senseless, and savage experiment. Which nevertheless proved beyond a shadow of a doubt that...
This New System Can Beat
Anybody, Anywhere, Anytime!
But hey… Wick's video instruction speaks for itself. These are, hands down...
The Nastiest, Most Effective
And Easiest To Master Fighting Secrets
You Will Ever See!
Completely savage street survival designed for the real world -- where your opponent isn't helping you train -- he's trying to KILL you. This is street survival as you've never seen it. And guess what?
You're one of only a handful of guys who will get to see these secrets. For everyone else out there, this amazing stuff will remain just a rumor.
Wick is so hidden away, that except for the cops and soldiers who track him down... you're among the ONLY guys who know he even exists!
Here's what I have for you: We flew Wick down to California, and spent three days videotaping his best stuff. Out of all those hours of tape, I have chosen the most incendiary 90 minutes, and put all straight onto DVD.
Best of all...
I Want You To See It All...
For FREE, If You Choose!
Because you need to see this new system — and try it out for yourself — to believe it really is everything I've promised you it is.
It's that new.
It's that different.
These secrets will instantly put you in a different "fight zone" than everyone else out there. You know this is a Golden Age of fighting — with so many parts of the world colliding, that all the old "can't be defeated" styles of martial arts ARE being defeated.
It's a new game. If you're still stuck trying to defend yourself with fancy kicks and strikes that take more than a second to complete... you're MEAT on the street.
This will change everything for you. These secrets are...
Incredibly easy to master (you can pick most of it up just by watching these videos!)...
Designed to be

used by smaller men against larger multiple attackers

...
And is so deadly, and so new... that

your opponent won't know what just blew through him

.
Let him think he has the advantage over you... because he's bigger, or meaner, or has a weapon. Or has several friends behind him, laughing and itching to have some fun at your expense.
Let `em laugh.
They are just seconds away from suffering such intense pain and lasting humiliation...
That They Will Remember You
With Fear And Trembling
For The Rest Of Their Sorry Lives!
Look — you don't risk a penny checking these amazing videos out for yourself, and seeing what all the fuss is about. All you need to do is click on the "Buy" button below right now. It's a perfectly safe encrypted shopping cart that NO ONE has access to but me.

...or call my office at 1-800-899-8153 and tell whoever answers you want the "Larry Wick's Tactical Street Survival".
1-800-899-8153
You can use your credit card. You can also pay by check or money order, just make the check payable to TRS Direct and send it to:
TRS Direct Dept. LW-83
606 E. Acequia Ave.
Visalia, CA 93292
The price for these videos is just $69. But you don't risk a penny of that. Because... as you expect from TRS...
You don't risk a penny of your purchase price -- not one single penny.
I want you to check this material out for yourself for 6 full months. That's plenty of time to prove to yourself whether this is bull... or the real thing.
If you aren't completely and utterly blown away by what you learn... just send the videos back (in any condition) and I'll refund your purchase price immediately.
No questions asked.
No hassles, either.
That means... if you choose... you can see everything...
For FREE!
Plus... if you call or write within the next 7 days... I will also send you a free bonus video on dealing with Multiple Attackers. Very intense stuff.
It's the advanced, "next level up" stuff the Spec Op guys are so interested in.
And this bonus video (over 30 minutes of pure insane action) is yours to KEEP, no matter what. It's my gift to you, just for checking Wick's stuff out.
You must hurry. As part of our special agreement with Wick, there is a strict limit of videos that can be released right now.
I have a DVD package waiting for you here in my office. As an "e-hotlist" member, it's all ready and waiting to be rushed to you right now. After all, there's absolutely no risk. And this is such amazing stuff.
However... I can only hold this package for you for a couple of days. After that, because demand is so intense, if I don't hear from you... I will release your package to the next guy in line. (It's a long line, full of cops and agents and soldiers. But because of your status on my e-Hotlist, you get first shot.)
So please don't wait around, and let this opportunity slip through your fingers. There is absolutely NOWHERE else you can find these secrets.

To the rest of the world, this stuff is still a RUMOR.
The cat's only partly out of the bag. And only for guys like you, on our special Hot List.
Wick came to TRS because of our reputation. He knew we would take him seriously... convinced that after just one look at his incredible "tactical survival" material, we'd get his videos out to the heart of the fighting world lightning-fast.
Well he was absolutely right -- this is the real deal. You HAVE to see this for yourself. It will change everything you believe about fighting.
I've told my staff to expect to hear from you.
Sincerely,



Bob Pierce

P.S. One last thing — you cannot let your friends in on this deal. This is ONLY for Hot List members. It's a very restricted offer, and we check everyone against our master list.
Again... there's a package set aside for you here. But we will hold it only for a few days. After that, it goes to the next guy on the list.
So please hurry. Once all the DVDs we made are released, you're out of luck.
P.P.S. Remember... you risk absolutely NOTHING. Full 6 months to check it all... and see it for FREE, if you choose. Call 1-800-899-8153 right now, and tell whoever answers you want "Larry Wick's Tactical Street Survival" DVD package. We'll handle it from there.